Designing your dream destination weddings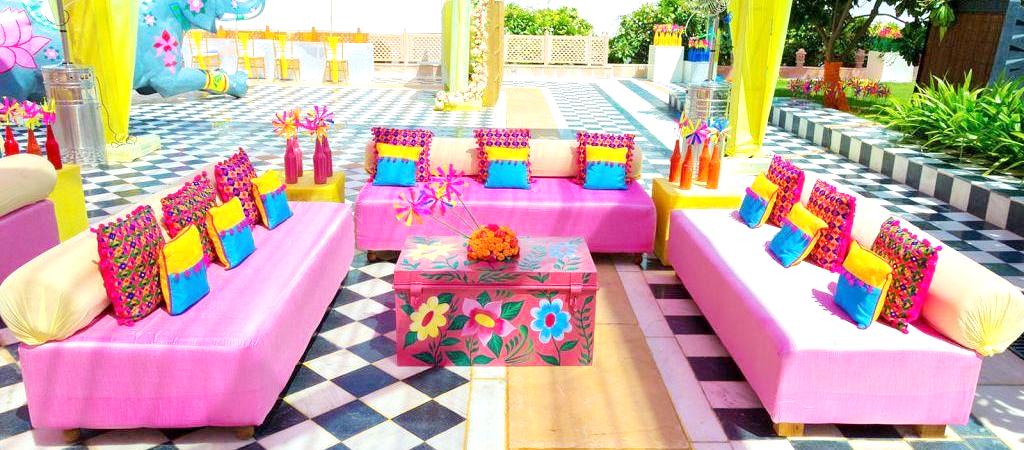 Royal Wedding Planner Kumbhalgarh
Kumbhalgarh has its name ehed in the heart of Indian history for an obvious reason. It is the birth place of Maha Rana Pratap, one of the bravest sons of Mother India. Apart from the fact that history comes alive here, Kumbhalgarh is a tourists' paradise owing to its picturesque landscape, as well as for the spectacular sight of the 15th century built Kumbhalgarh Fort getting lit up every evening. While romance literally floats in the nearby lake city of Udaipur, Destination wedding in Kumbhalgarh is becoming no less popular for couples who want a different flavor in their wedding. At Hornbill Event Planners, we know what it takes to organize a near-perfect destination wedding, and we strive to make things go as smooth as they can be.
Why Choose Kumbhalgarh?
The hamlet has undergone a lot of changes since the last decade. It is now the home to a number of deluxe hotels, as well as boutique spas and resorts. Even a portion of the Kumbhalgarh Fort has now been opened up for tourists and lodgers. Hiring a resourceful Destination wedding planner in Kumbhalgarh would enable couples to look for a venue that suits their budget and taste.  While we perfectly understand that it might not be possible for all to hire a 7 star or 5 star venue, there are a number of venues available that offers a clear view of the fort, as well as the nearby lakes. The venues give a country side feel, yet offer all the facilities of modern age hospitality.
On Setting up The Budget
As one of the Best wedding planner in Kumbhalgarhh (as our real clients often term us), we prefer giving practical solutions to all. As for example, we have often seen that when it comes to setting up a budget for the wedding party, couples pay a lot of emphasis on the cost for venue hire, as well as the catering. Letting go of the miscellaneous expenses is a mistake that no one can afford. Those partnering us can expect a plethora of practical help that saves both time and money.