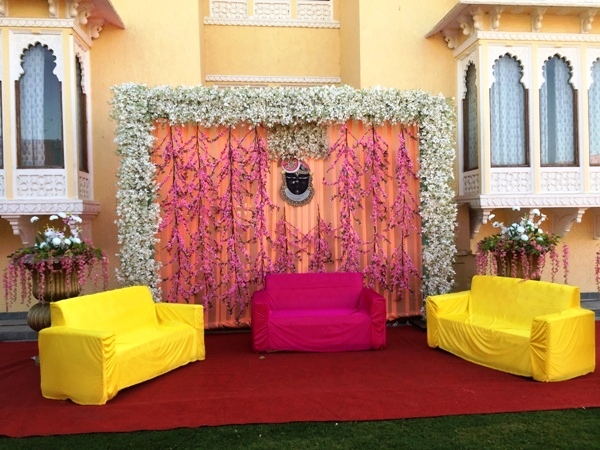 Destination Wedding Planner Nathdwara
Commemorating the big day and arranging a party for the same comes with a lot of responsibilities. When our clients approach us for a hassle-free and relatively unexplored wedding destination, we cannot stop recommending Nathdwara off and on. Primarily known for the abode of Shrinathji, the 7 year-old incarnation of Lord Sri Krishna, the township is a home to unique terracotta artworks, the exclusive 'Pichwai' style of paintings, milk-prepared sweets and ivory articles. At
Hornbill Event Planner
, as the
Best wedding planner in Nathdwara
, we strive to make the events roll on as smoothly as possible.
On Choosing The Venue
When our clients run out of time, yet booking the venue remains undone, we happily lend our helping hands. There are a number of palatial hotels, as well as small, tasteful locations which are great for
organizing Destination Wedding in Nathdwara
. Our clients can enjoy some fine deals from the properties that we have partnered with. Also, we can arrange for catering, decorations and guest accommodations as per the budget of our patrons. We welcome just about any type of last minute additions and alterations in the plan, which are practical, of course.
Hospitality Speaks
From greeting your guests with the first warm Hello, to bidding them goodbye after the wedding is over, we are there to serve everything that falls within. As a guest-friendly
destination wedding planner in Nathdwara
, our team works to ensure that the guests remain comfortable and enjoy assistance round the clock. Our team perfectly understands that most of the guests might be coming to the place for the first time, so we offer all the guidance that they need to move around and shop. We always keep the cars ready because you might need them anytime. Moreover, doctors on call will always be available for untoward emergencies. And we can also arrange for specialized chefs to prepare delicacies from different corners of the world, and serve surprises in every pre-wedding, wedding and post-wedding celebrations.